Beginners Windsurfing Lessons
---
Beginners Windsurfing Lessons
$120
/ ($40,- per hour)
Only 10% deposit, pay the rest later
2 hours of private windsurf lessons
10% Discount on VKS lycra's
---
---
---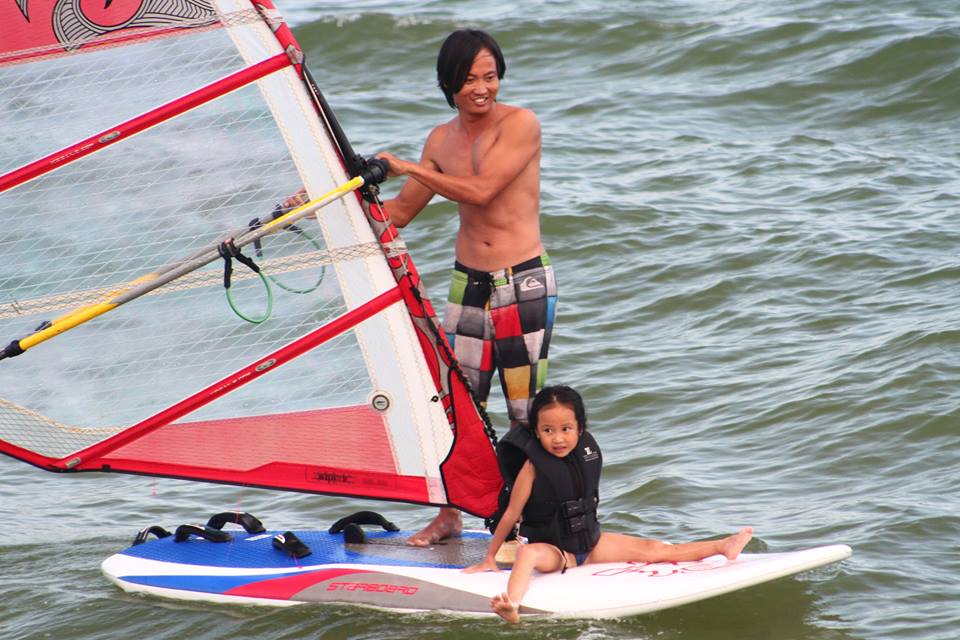 Windsurfing in Vietnam!
Always wanted to learn how to windsurf? Learn to windsurf in Asia at VKS and start with our Beginners Windsurfing Lessons. Our windsurf school is located in Mui Ne, the perfect location to learn to windsurf. With lots of wind and flat water all year round Mui Ne in Vietnam is one of the best windsurf locations in South East Asia.
In the Beginners Windsurfing Lessons our instructor will teach you all the basics of the windsurf sport in two hours. After that you will have a full hour of free windsurf equipment rental to put your new windsurf knowledge into practice!
Mui Ne, Vietnam is one of the best spots to learn to windsurf!
Most of the water-sport lovers come to Mui Ne between October and April for kitesurfing but for windsurfing you need less wind. This makes Mui Ne perfect for windsurfing all year round. There are many area's where the water is flat, our instructor will look for the best conditions for you to learn to windsurf, because your safety is always our number one priority.
How will the Beginners Windsurfing Lessons look like?
In just two hours our instructors will introduce you to all the basic windsurf techniques. When you learn to windsurf at Vietnam Kiteboarding School our first priority is safety. Thats why our windsurf instructors will spend the first hour on land to explain you in detail about safety procedures and sail handling.
You practice all the windsurf theory on land with our Windsurf Simulator. This way our windsurf instructor is able to guide you through the whole lesson while standing next to you. Once you got the hang of it and built up all the confidence you will enter the water for your real windsurf experience.
Check out the windsurf skills you will learn during the Beginners Windsurfing Lessons below:
Lesson 1
Safety & Equipment theory
Windsurfing safety theory
Explanation about windsurfing equipment
Rigging (setup) your windsurfing equipment
Lesson 2
Windsurf Simulator & Water start

Practice on land with Windsurf Simulator
First windsurf water start
Tack and gibe in light wind (how to turn)